Throughout our past 25 years of operation, some of our assignments have included Geophysical Survey, Oil Exploration, Coastal Restoration, Artificial Reef Deployment, Debris Removal, Support to Hollywood's Movie Industry, Transport of Crew and Supplies, Support to the Autonomous Vehicle Industry, and more.
CONTACT US TO GET THE JOB DONE!
Contact us today to charter a crew and/or marine survey vessel. We've been successfully serving the Gulf of Mexico and beyond.
Larry M. Arcement
Phone | 504-583-5075
Email | LarryArcement@gmail.com

Contact us today to charter a deck boat. We have various sizes and designs to suit your next project, both inland and offshore.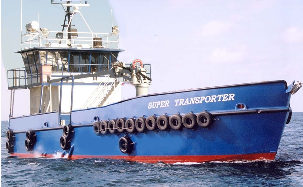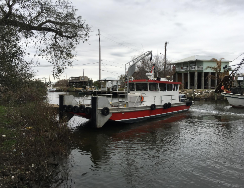 Contact us today to charter a spud / crane barge. We have various sizes and designs to suit your next project.
Contact us today to lease our portable, "on-site," living unit, and enjoy the comforts of home while in the field.
We have been successfully serving clients and customers, in various marine operations, for the past 25 years.
Bunkroom_-_on_deck.jpg
Work boat rentals, boat rentals, boats, oil and gas, exploration, Louisiana, Lafayette, Broussard, New Iberia, Gulf of Mexico, marine survey and seismic, crew boats, barge, barges, spud barges, deck barge, equipment rental, crane barge, onsite housing, Super Transporter, High Roller, Larry Arcement, Tracy Arcement, Dana Arcement, Breaux Bridge, Louisiana, Texas, Florida, inland, offshore, coastal, shallow draft. crane barge, autonomous vehicles, St. Bernard Parish, New Orleans, Delacroix, Yscloskey, Hopedale, Shell Beach, marine equipment, debris removal, coastal restoration, clean up, oil spills, reliable boats, towing, pushing, push knees., diving, marine construction, marine transportation, supply boats, local, state, federal government contractor, reef restoration, boats, supply boats, deck boats, offshore supply vessels, survey boats, seismograph boats, tow boats, Alabama, Mississippi, Gulf coast, geophysical boats, marine survey boats, side scan sonar, multi-beam, High resolution sonar mapping, NOAA, artificial reef deployment vessels, Breton Sound, Chandelier Sound, Mississippi River, Gulf of Mexico, Atlantic Ocean, Lakes, Rivers, Bays, inland, offshore, dive boats, crewboats, multi use boats, versatile boats, boat, aluminum boat, fiberglass boat, steel boat, oil rig, oil platform, energy, restoration, first responder, first response, contamination, decontamination, oil cleanup, cleanup, Arcement, research vessel, research boat, marine research, skiffs, work skiffs, workboat, workboats, crew boat, crewboats, Chalmette, New Orleans, towing vessels, towing, towing vessel, specialty vessel, specialty vessels, offshore vessel, offshore, offshore vessels, charter, charter vessel
Arcement Boat Rentals, Inc., originally started operating in 1993, out of its home Port of New Orleans, LA. In addition to the Port of New Orleans, we also operate out of the Port of Iberia, LA.